Rossmann, Poland's Leading Drug Store Chain, Runs Business-critical Logistics System on OutSystems
With more than 1,500 stores in around 400 cities, Rossmann Poland is the country's leading drug store chain. Efficient logistics to keep stores replenished is a business-critical capability. And since 2020, the retailer has used a logistics app called "S-Hub" in its central distribution warehouse.
That app and 24 others are built on OutSystems, and the number keeps rising. Rapid low-code development has made Rossmann a more agile organization, as demonstrated by its ability to quickly adapt to the many disruptions that the COVID-era threw at retailers.
"OutSystems gives us the ability to build applications we need with virtually no limits, including extensive apps that cover critical operations."
Robert Haber - Business Solutions Architect, Rossmann Poland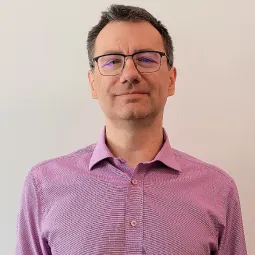 Numerous App Dev Technologies Led to Development Silos
Rossmann Poland has a long history of in-house custom software development, which has helped the drug store giant differentiate in its market. Around 300 specialists work in its IT department, and they had a veritable smorgasbord of different software development technologies.
"We were concerned about hitting a wall with low-code. But we've found no limits to what we can do with OutSystems. The ability to modify or extend code at the front-end or back-end means we can deliver apps precisely tailored to our needs."
Piotr Jugiel - Deputy Director of the IT Department, Rossmann Poland
In mid-2019, Rossmann Poland decided to complement and standardize its application development technology, aiming to provide a single, comprehensive application development kit that would speed up the development process and allow developers to focus less on technology and more on solving business problems. This additional element was the choice of a low-code solution.
Ultimately, the company chose OutSystems as the platform met their requirements to deploy on-premises and was suited to multiple use cases, including mission-critical core business systems and smaller web and mobile workplace applications.
Convincing IT Teams Step by Step
With a large team of experienced developers, Robert Haber, Business Solutions Architect at Rossmann, had to tread carefully to win over colleagues to a new low-code way of working. "Junior developers were very receptive and quick to learn OutSystems," says Robert, "But, in fairness, it wasn't easy to convince all of our developers to go low-code."
"To win over skeptics, presenting low-code as a panacea doesn't work," says Robert. "Instead, a step-by-step approach is more persuasive. We pointed out the areas of development where OutSystems gave the most benefits, like UI development and speed. We gradually proved the case with concrete results."
"To win over skeptics, presenting low-code as a panacea doesn't work. Instead, a step-by-step approach is more persuasive."
Robert Haber - Business Solutions Architect, Rossmann Poland
25 Apps and Counting—Including a Mission-Critical Logistics App
Now, just over two years since adopting OutSystems, Rossmann has 25 applications running on OutSystems, serving around 20,000 users every day. Of these, 4,000 are heavy users at head office, and around 16,000 are users in stores.
Rossmann has a blended sourcing approach that combines in-house development with certified developers from OutSystems partners to assist on more complex projects.
"Many developers assume low-code is just for simple tools in the back office," says Robert. "But we've proven the contrary very quickly. OutSystems allows us to build the applications we need with virtually no limits, including extensive apps that cover critical operations."
So, although Rossmann has several simple applications that do not require extensive integration, it also has more complex business-critical solutions that it has comprehensively integrated with core systems.
S-Hub—A Mission-Critical Logistics App
The S-Hub app is at the center of Rossmann's supply chain. Installed on Android devices used at Rossmann's central distribution warehouse, S-Hub scans incoming and outgoing deliveries, streamlining distribution to stores.
The application helps route consignments to the correct vehicles, ranging from large trucks to small vans often needed to reach city-center stores where large trucks are not permitted. Operators also use S-Hub to record that the delivery is undamaged, all seals are intact, and the required shipping documents are there.
"S-Hub is mission-critical for us and must operate reliably six days a week to ensure we keep stores stocked," says Piotr Jugiel, Deputy Director of Rossmann's IT Department. "Otherwise, our customers are left with empty shelves. This use case proves how low-code can serve enterprise-strength scenarios. We've used S-Hub since mid-2020 and have continually enhanced it."
Heracles—Stores Task Management
Heracles enables Rossmann's headquarters to assign tasks to store employees. These are often data-capture tasks like a short survey. Examples include stock display checks and safety incident reporting.
Users at HQ can rapidly configure tasks from ready-made widgets, like multiple choice questions, checkboxes, photo upload, and many more. Then, tasks can be sent to all stores or specific types of stores.
Rapid Response to COVID Disruption
During the pandemic, the Rossmann development team responded rapidly to urgent requirements due to the development speed of OutSystems. Applications included:
A COVID test appointment booking app—developed in just a few days.
A reporting tool for positive cases—developed over one weekend.
"We had the idea for this application on a Friday," recalls Haber, "and on Monday, the first version of the finished application was running."
"Such speed and responsiveness isn't possible with hand-coding. We heard from colleagues in other countries how impressed they were by our speed of response."
Robert Haber - Business Solutions Architect, Rossmann Poland
Outlook
The improved speed and agility of the team are not just because of faster development. Often, it's because of the reuse of previous development or the incorporation of pre-built components and connectors that the IT team can download from the open-source community repository, OutSystems Forge.
Looking further ahead, Robert says, "We hope to expand the use of OutSystems to workflow related tasks in the future, and we're in discussions with colleagues to extend the use of OutSystems across the company."
This Rossmann story you can find here.